Duration:
February 2018 - February 2021


Project leaders:
Prof. Dr. Christoph Helmberg (Project Coordinator)


Algorithmic and Discrete Mathematics, Technical University of Chemnitz, Straße der Nationen 62, 09107 Chemnitz


helmbergATmathematik.tu-chemnitz.de


Dr. Sara Grundel


Simulation of Energy Systems, Max Planck Institute for Dynamics of Complex Technical Systems, Sandtorstr. 1, 39106 Magdeburg


grundelATmpi-magdeburg.mpg.de


Prof. Dr.-Ing. Stefan Streif


Automatic Control and System Dynamics Laboratory, Technical University of Chemnitz, Straße der Nationen 62, 09107 Chemnitz


stefan.streifATetit.tu-chemnitz.de


Jun.-Prof. Dr. Karl Worthmann


Ordinary Differential Equations, Technical University of Ilmenau, Weimarer Str. 25, 98693 Ilmenau


karl.worthmann@tu-ilmenau.de


Researchers:
Tim Aschenbruck



Technical University of Chemnitz, tim.aschenbruckATetit.tu-chemnitz.de




Dr. Manuel Baumann



Max Planck Institute for Dynamics of Complex Technical Systems, baumannATmpi-magdeburg.mpg.de




Dr. Willem Esterhuizen



Technical University of Chemnitz, willem.esterhuizenATetit.tu-chemnitz.de




Dr. Bartosz Filipecki



Technical University of Chemnitz, bartosz.filipeckiATmathematik.tu-chemnitz.de




Felix Petzke



Technical University of Chemnitz, felix.petzkeATetit.tu-chemnitz.de




Philipp Sauerteig



Technical University of Ilmenau, philipp.sauerteigATtu-ilmenau.de




Industry partners:
TenneT TSO GmbH · ENSO NETZ GmbH · Venios GmbH · Energy Saxony e. V.


Support:
Bundesministerium für Bildung und Forschung - "Mathematik für Innovationen" als Beitrag zur Energiewende
top
Description: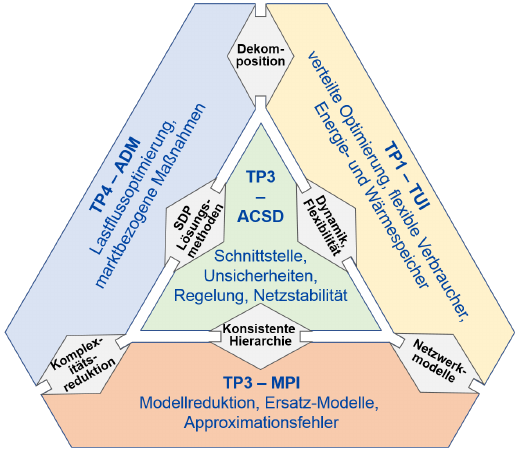 Die Energiewende geht einher mit einer zunehmenden Durchdringung der Netze mit volatilen Erzeugern (erneuerbare Energien), flexiblen Abnehmern (E-Mobilität) und teilweise neuartigen Energiespeichern (Batterien, Wärmespeicher). Diese führt - neben dem beschleunigten Handel an den Strombörsen - zu neuen Herausforderungen und Möglichkeiten im Betrieb der Stromnetze. In Kombination mit dem gleichzeitigen Ausbau der Netze durch neue Steuerungselemente unter dem Sammelbegriff Flexible AC Transmission Systems (FACTS) sowie durch neue Leitungselemente wie der Hochspannungsgleichstromübertragung (HGÜ) bieten sich Flexibilitäts- und Effizienzsteigerunspotentiale, die mit der traditionellen, halbautomatisierten Systemführung der Netzbetreiber kaum nutzbar sind. Für eine vollautomatisierte Steuerung, die diese Potenziale heben kann, benötigt es neue mathematische Verfahren und Konzepte, um die komplexen Wechselwirkungen vom Höchst- spannungsnetz der TenneT TSO GmbH über das Verteilnetz der ENSO NETZ GmbH bis zum Microgrid zu beherrschen. Letzteres gehört zum Mittel- und Niederspannungsbereich, dafür bietet die Venios GmbH Steuerungs- und Simulationssoftware an. Das allgemeine Interesse an dieser Fragestellung belegt die Unterstützung des Energy Saxony e.V. bei öffentlichkeitsarbeit und Verwertung der Ergebnisse. Ziel ist es, mathematische (Optimierungs-) Verfahren zu entwickeln, um die Flexibilität innerhalb und zwischen den einzelnen Netzebenen in der Lastflussoptimierung auszunutzen und Unsicherheiten zu kontrollieren. Dazu bedarf es einer Fokussierung auf die wesentlichen Kernelemente (Modellreduktion), um mathematisch handhabbare Modelle der multiskalen Systeme zu generieren. Dieser Ansatz erlaubt es bei gleicher Infrastruktur, den stabilen Betrieb unter Hebung der Effizienzpotentiale aller beteiligten Netzwerksysteme zu realisieren.

top
Publication:
The goal of this project is to develop mathematical methods and algorithms for the optimization and stabilization of the electrical power grid with emphasis on new technological developments such as the rise of renewables, E-mobility, and others. All results are reported in scientific publications:
Journal publications

Esterhuizen, W.; Aschenbruck, T.; Streif, S.: On Maximal Robust Positively Invariant Sets in Constrained Nonlinear Systems.
S. Grundel, P. Sauerteig, and K. Worthmann Surrogate models for coupled microgrids submitted to Progress in Industrial Mathematics at ECMI 2018, Springer.

Scientific posters

Presentations

Student theses

Frances Weiss (MSc thesis, ongoing). Simulation, Analysis and Model-Order Reduction for Dynamic Power Flow Models. Supervision: Sara Grundel and Manuel Baumann at MPI Magdeburg
top
Press Releases:
Project meetings
The industrial and academic partners have regular project meetings with alternating hosts.
Upcoming events

06.09.2018 - Modelling workshop at TenneT Bayreuth [all partners]
03.12.2018 - Progress meeting at ENSO Dresden [all partners]
02.04.2019 - Progress meeting at TU Ilmenau [all partners]

Past events

09.07.2018 - Progress meeting at MPI Magdeburg [all partners]
08.05.2018 - Meeting at TU Chemnitz [TUCh, TUI]
07.05.2018 - Modelling workshop at ENSO Netz GmbH in Dresden [MPI, TUI, ENSO]
02.05.2018 - Modelling workshop at Venios GmbH in Frankfurt am Main [MPI, TUI, Venios]
09.04.2018 - Kick-off meeting of all project partners involved at TU Chemnitz [all partners]


Page created and maintained by Manuel Baumann, last updated: June 2018